SixWallet
SixWallet is a general purpose IRP and LDAP GUI client for Windows
Download data sheet
SixWallet allows you to do  the following using IRP:
Create and manage multiple configuration files to connect to user accounts on IRP servers
Download and install the CA Certificates (Root and Intermediate Certs) from any hierarchy on an IRP server
Download and install the user's key material from a backed up PKCS12 file on an IRP server. This can replace lost key information, or install your key material on a new computer (passphrase required)
Connect to an IRP server to view and manage the information on your entry there
Download and install any key material on a server in PKCS12 format (passphrase required to install). This is useful for obtaining key material created centrally on an IRP server
Create a CSR and private key and save them locally in the SixWallet DB, and optionally submit the CSR to a CA using IRP. The CSR can also be submitted by cutting and pasting the CSR in PEM format.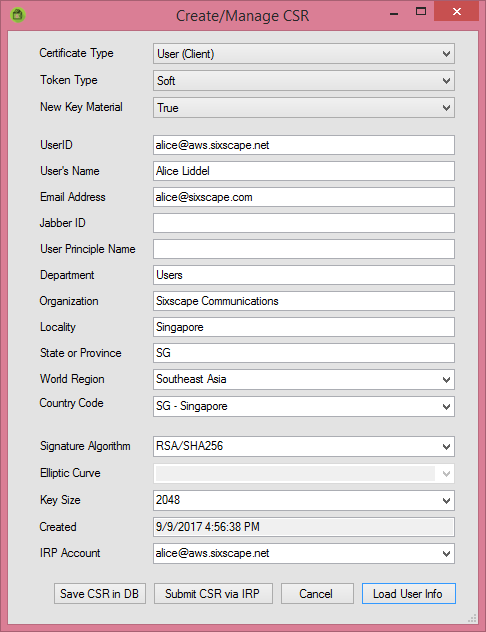 Reassociate a signed cert from a CA with the private key from when the CSR was created, and save the result in the MS Certificate Store, as well as in the SixWallet DB in PKCS12 format. The signed certificate can be retrieved from a CA via IRP, or delivered to the user via E-mail, web download, etc.
Here is the key material produced above, in the MS Certificate Store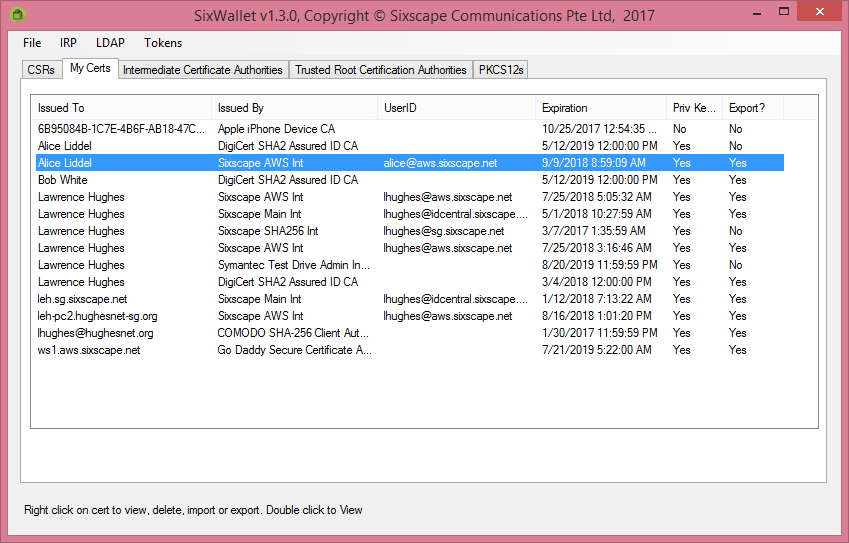 You can also manage information on LDAP servers via the LDAP v3 protocol (both read and write)
Create and manage configuration files to connect multiple user accounts on LDAP servers
Connect to an LDAP server using the configuration files and see a list of entries on that server.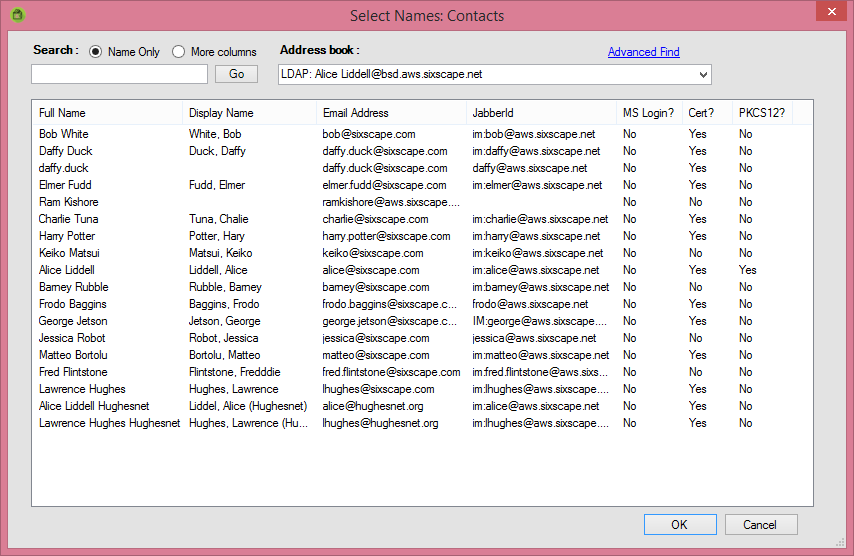 You can also manage information (for which you have read and/or write access), on any of the entries on a server by double clicking on an entry in the Select Names list. This is a really easy way to publish user's information, including their cert and PKCS12, in LDAP.
Finally you can manage hardware cryptographic tokens in any of the following formats:
USB thumbdrive format (e.g. Feitian ePass2003)
Smartcard format (for PKI Smartcards that contain a cryptographic processor)
MicroSD card (that contains a cryptographic processor)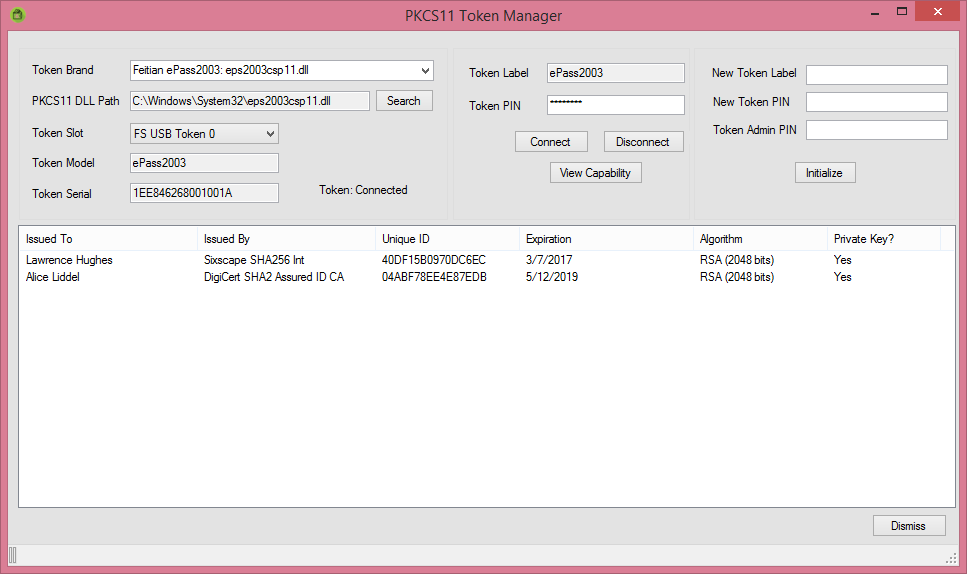 You can mount a token, view and manage certs in a token (view / import / export/ delete) certs in a token, etc. The Create CSR function can even create key material directly inside a hardware token.
SixWallet also allows you to view and manage certificates in the Microsoft Certificate Store (including your Personal certificates, Intermediate Certificate Authority certificates and Trusted Root certificates). This is similar to the Certificate viewer in Microsoft Internet Explorer. See above for example of viewing certs in the My Certs folder.
SixWallet-brochure